In this issue:
Alumni News | Alumni Spotlight | Events | Archives | Class Notes | In Memoriam
---
Alumni News
TMI Alumni on the Air
Some Panthers are great communicators…you can hear or see them reporting the news or commenting on sports on every kind of airwave ー TV, radio or streaming. We asked our broadcasting alumni to tell us how they got there and what they're up to these days, and each filed their own professional stories: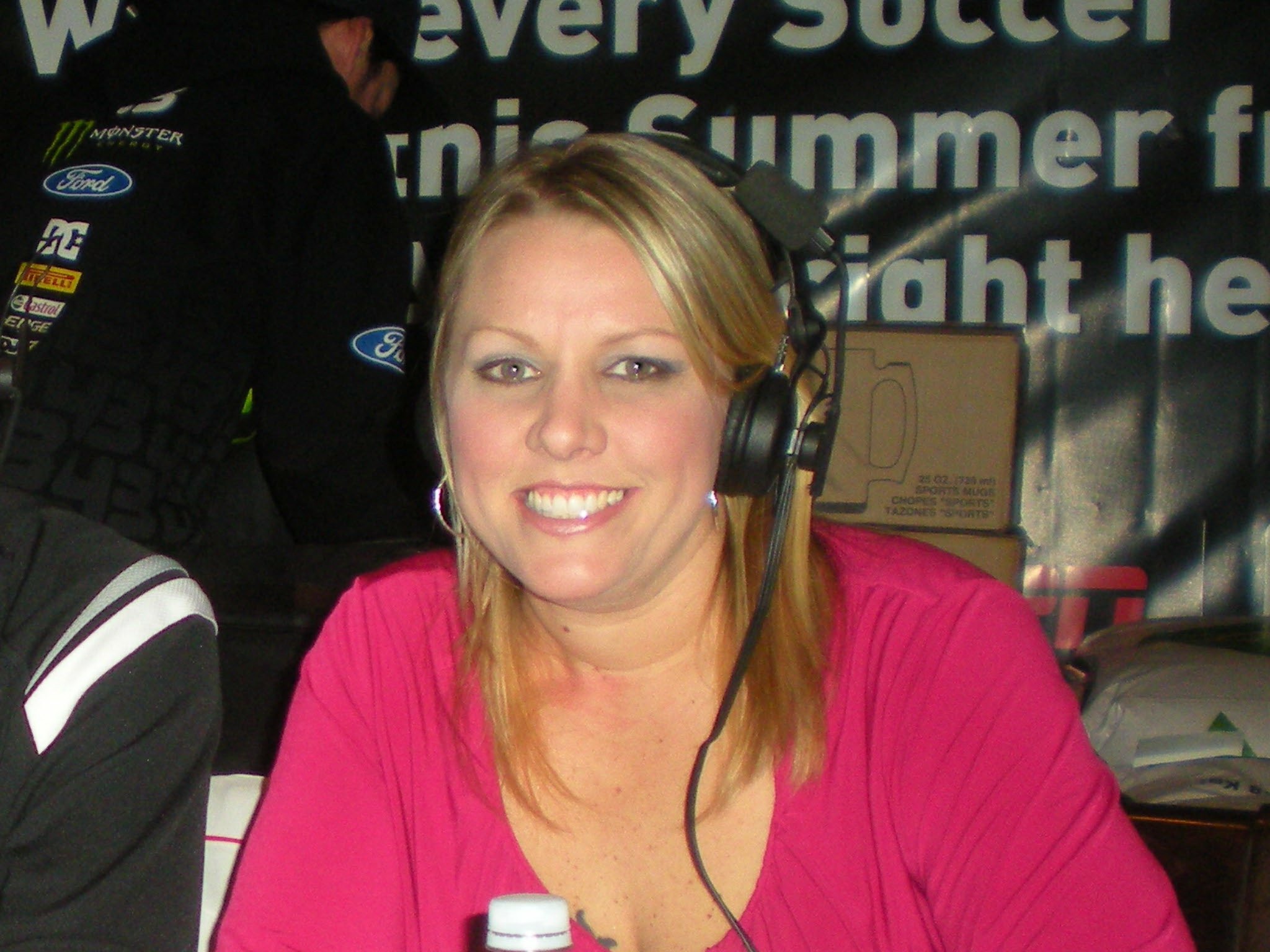 Dawn Bartlett Hall '91 is a well-known broadcaster in the motor-sports community. She has hosted her own racing show, TrackSmack, for 17 years on several radio networks and has been asked to participate on national shows, both online and on radio networks across the country.
READ MORE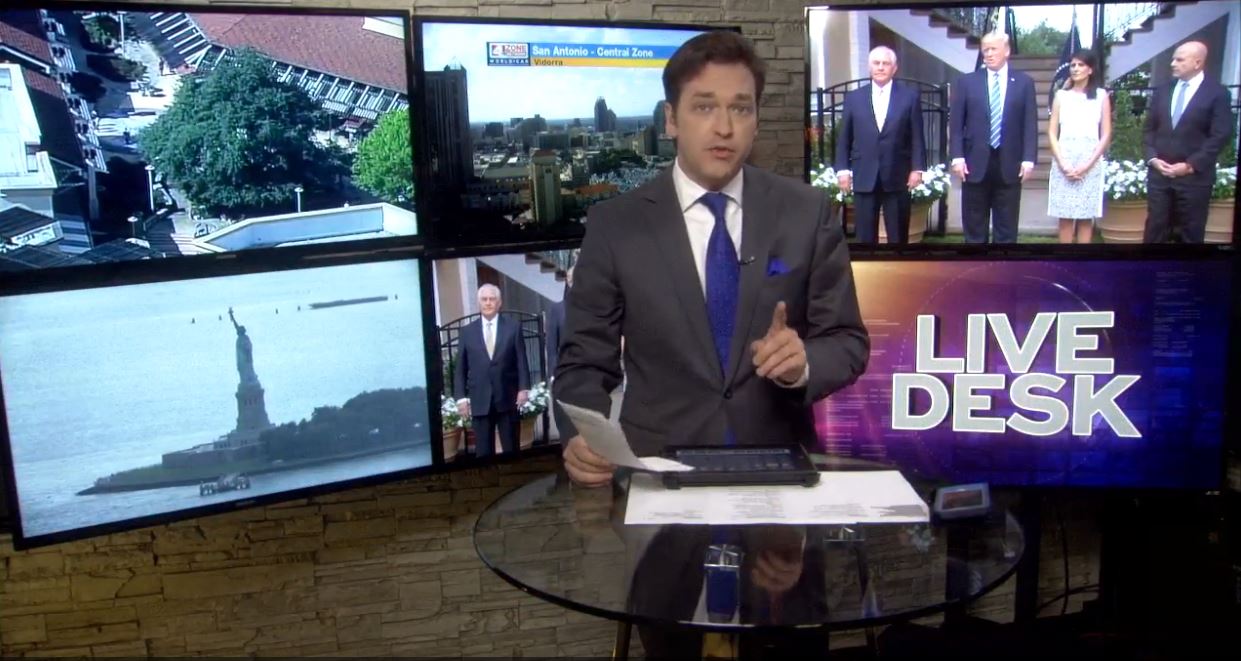 Robert Price '02 says he "always had an interest in journalism growing up. As a kid, I would religiously read the newspaper and watch the local news. But it was my time at TMI that really set me on the path of pursuing journalism as a career. It was here that I became editor-in-chief of our school newspaper (the Panther Picayune) as well as coeditor of the yearbook.
READ MORE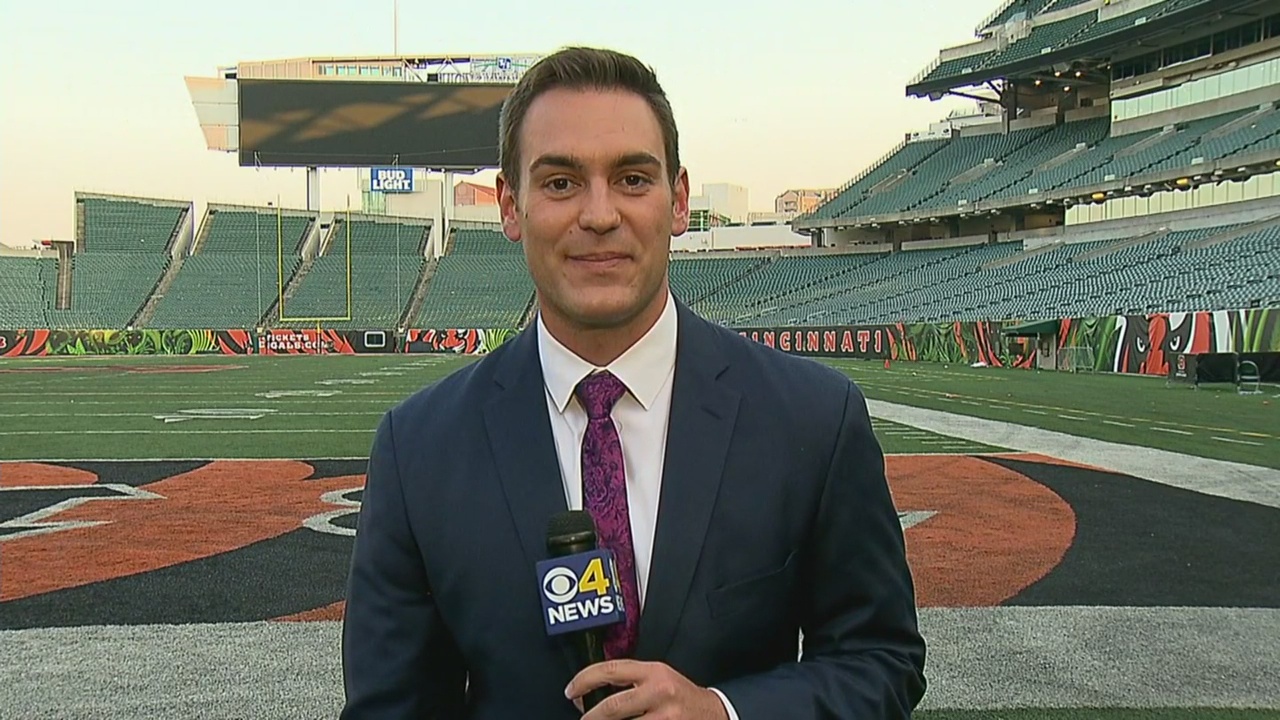 Michael Spencer '06 is currently a sports anchor at KCNC-TV, the CBS station in Denver, Colorado covering the Denver Broncos, Denver Nuggets, Colorado Rockies and Colorado Avalanche.After graduating from TMI, Michael earned his bachelor's degree from the School of Journalism at the University of Missouri.
READ MORE
Cayle Thompson '00 is an award-winning television news producer, reporter and anchor based in Washington, D.C. In 2021, Cayle was tapped by Sinclair Broadcasting to help launch The National Desk, serving as Live Desk anchor for their new national morning newscast.
READ MORE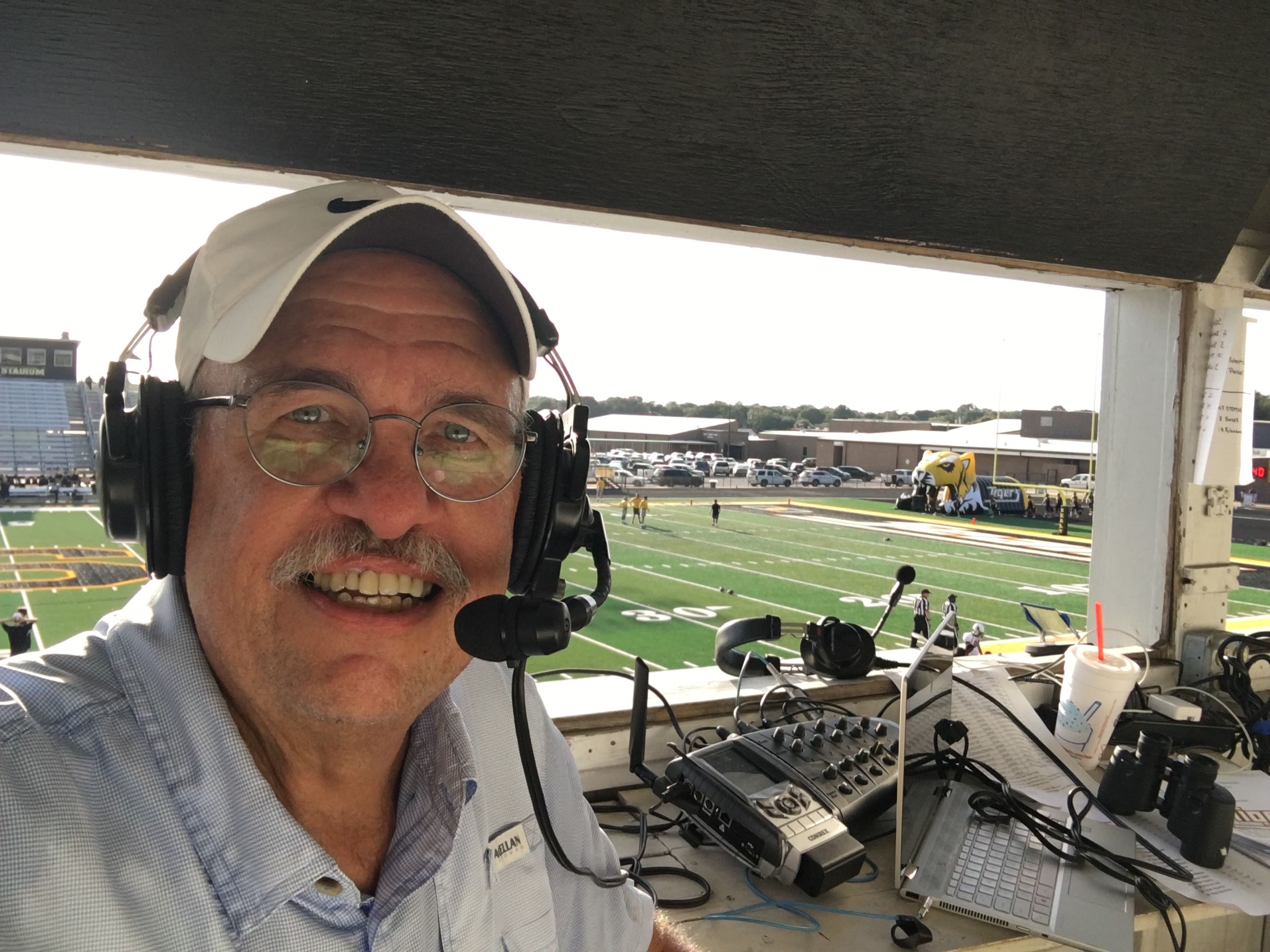 Tom Turbiville '66 says his path to a broadcasting career was improbable from the start. "Yes, I'd say from the very start," says the Class of 1966 class agent and former TMI band drum major. "I was born with bilateral cleft lip and cleft palate. That's typically not a path to making a living with your voice."
READ MORE
---
Alumni Spotlight
Antonio Benitez '82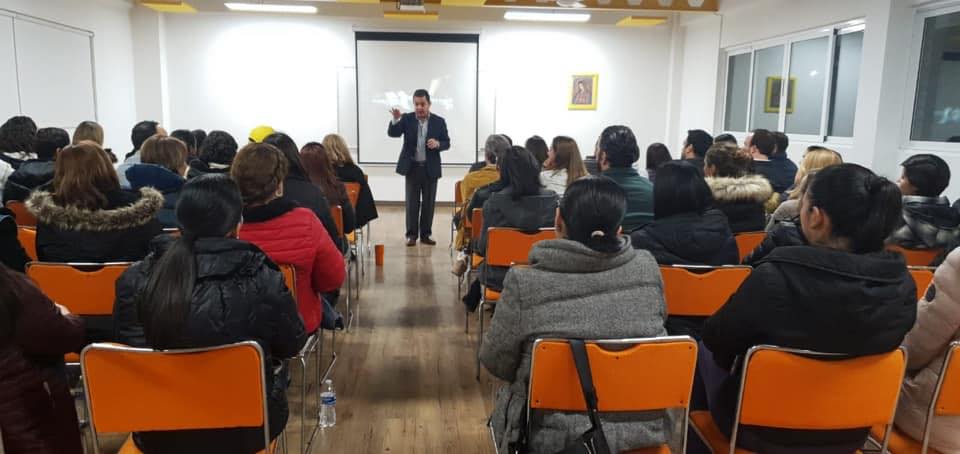 Educator Antonio Benitez '82 speaks to parents at a conference in Saltillo, Mexico, a city about 50 miles from his home in Monterrey. His work with the International Baccalaureate program has taken him all over the world.
What brought you to TMI from your home in Monterrey, Mexico?I just came for my junior and senior year. I was in a rock band, and my parents thought I was getting too serious about it and not serious enough about school. As a boarder at TMI, I had to take school seriously.
Was it hard at first to adjust?I'd already studied English at the American School in Monterrey, so I had no problem reading it and writing it, but for the first month, when everybody around me was talking and laughing at the same time, it could be scary. I really had to pay attention, and that helped me learn fast.
READ MORE
Brian Gant '93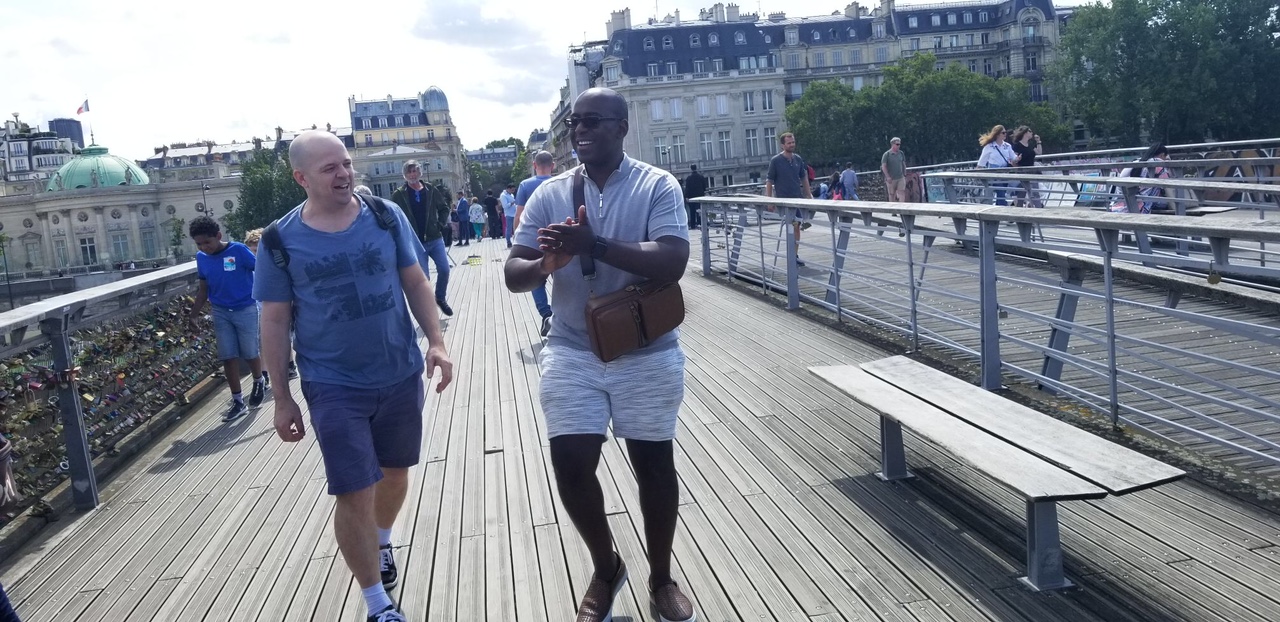 Brian Gant '93, right, meets up with Sebastien Ron Caillet '90 in Paris. Before Brian's family trip to Europe in 2019, the two TMI alums planned to get together in Paris, Sebastien's hometown.
What brought you to TMI?My roots were on the East Side of San Antonio, and I had gone to Jeff Davis Middle School. My parents felt that the local high school lacked resources, and we made a deal – that I would have to go to TMI for at least one year (as a freshman). Then I fell in love with the school.
READ MORE
---
Alumni Day ー Friday, April 30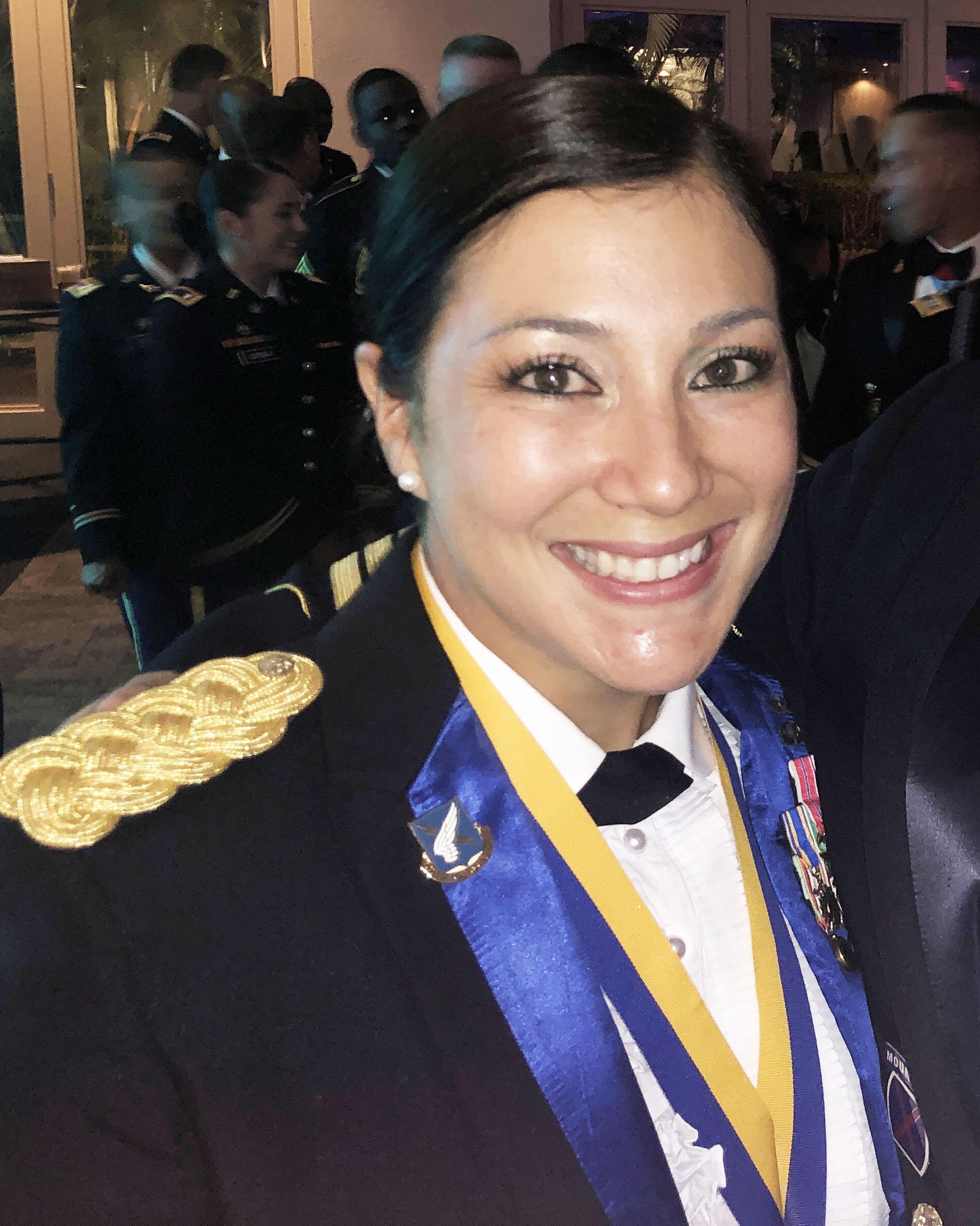 Army Maj. Azizi Van Delden Wesmiller '01, will serve as Reviewing Officer at Final Pass in Review, April 30, during TMI Alumni Day.
For our first in-person alumni event since the COVID crisis, we'replanning to make a day of it ー Alumni Day, Friday, April 30! (Please note; this is an update since the announcement in the November 2020 newsletter.)
The day's events are scheduled as follows:
Final Pass in Review ー 2:40-3:30 p.m.TMI Campus Tours with Our Leadership Team ー 3:45-4:45 p.m.
Meet our Dean of Innovation and tour Walker Innovation Center
Meet our Director of Athletics and tour Frost Athletic Center
Meet our Commandant and tour Petty Rifle Range
Alumni Hall of Fame Awards Ceremony ー  5-6 p.m. in All Saints Chapel, honoring the 2020-2021 inductees
Alumni Wine and Cheese Reception ー  6-7 p.m. on the Chapel Portico
To RSVP for these events, click here.
All events are subject to health and safety recommendations of the CDC and local authorities.
---
Stars Over TMI 2021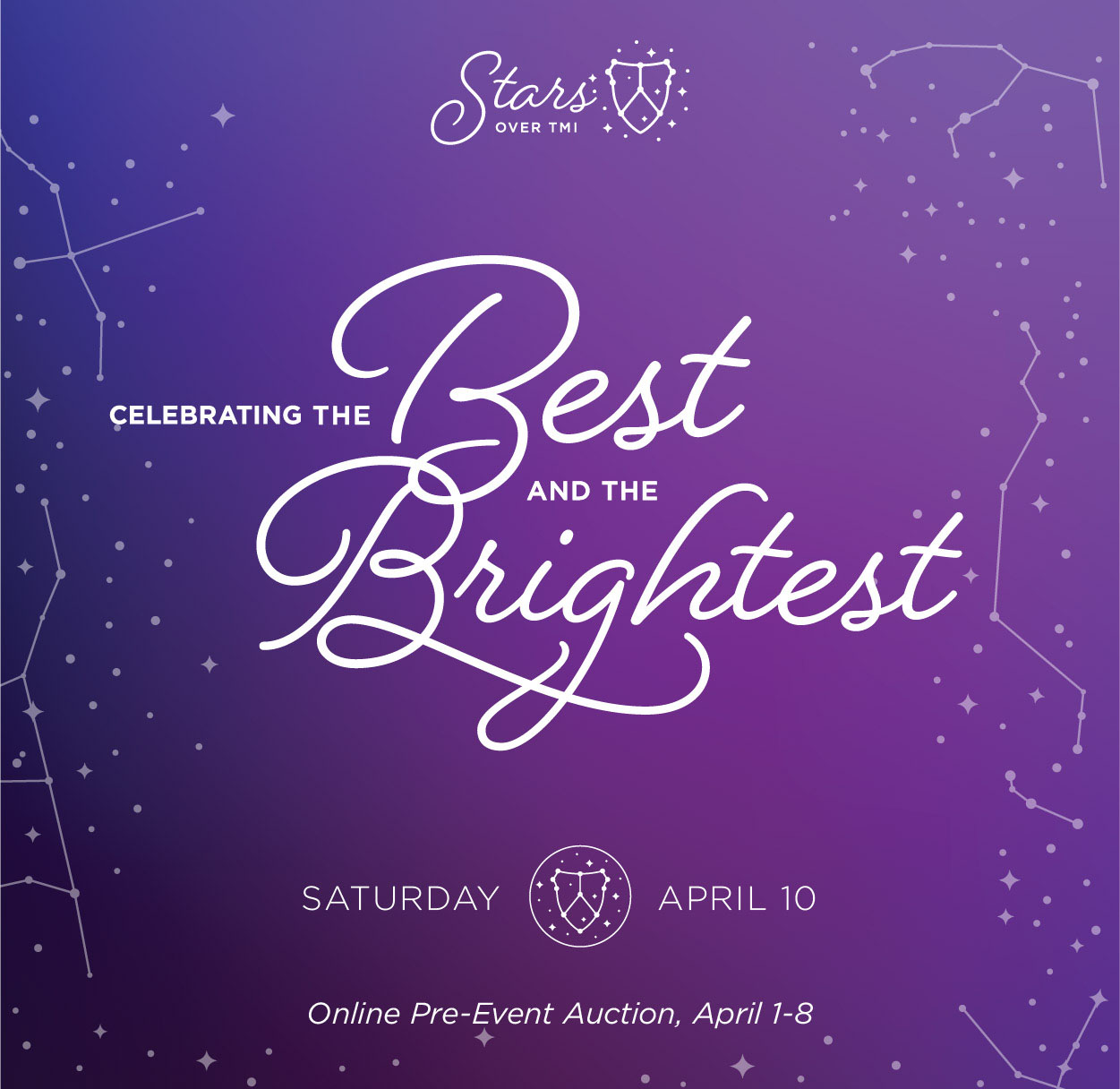 Stars Over TMI: A Celebration of the Best and the Brightest gala and auction will take place on Saturday, April 10, at La Cantera Resort and Spa, 16641 La Cantera Parkway.
This unforgettable night ー TMI's premier annual fundraiser ー will feature cocktails, cuisine and a live auction. We encourage you to show your pride for TMI by attending, and to consider marketing your business or place of employment by becoming an underwriter.
All proceeds go to benefit TMI Episcopal. Please visit the Stars Over TMI webpage for underwriting details and tickets to the event. Go Panthers!
For more information, please contact Belinda Benavidez, Associate Director of Development:
(210) 564-6245 or b.benavidez@tmi-sa.org
---
Camp is Coming Back!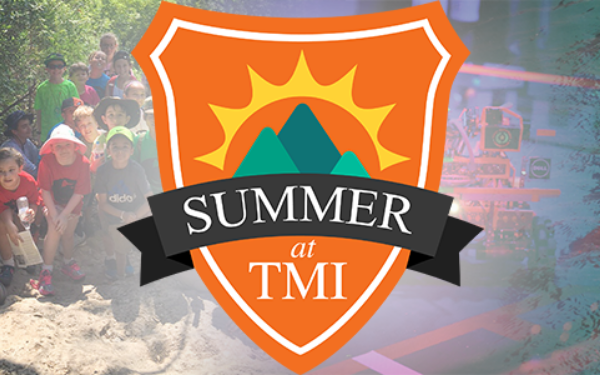 Plans are underway to launch a return of our full Summer At TMI program on campus this year! With hopes that the pandemic will be under control by June, we are preparing to host a full lineup of athletic, academic, art, robotics, computer and adventure camps, in compliance with all CDC, state and local requirements.
A full catalog of Summer 2021 camp offerings will be available in February, with registration opening on March 1. For details about the program, click here.
For questions, please contact summer@tmi-sa.org. We look forward to having your family join us this summer!
---
Annual Report 2019-2020 Online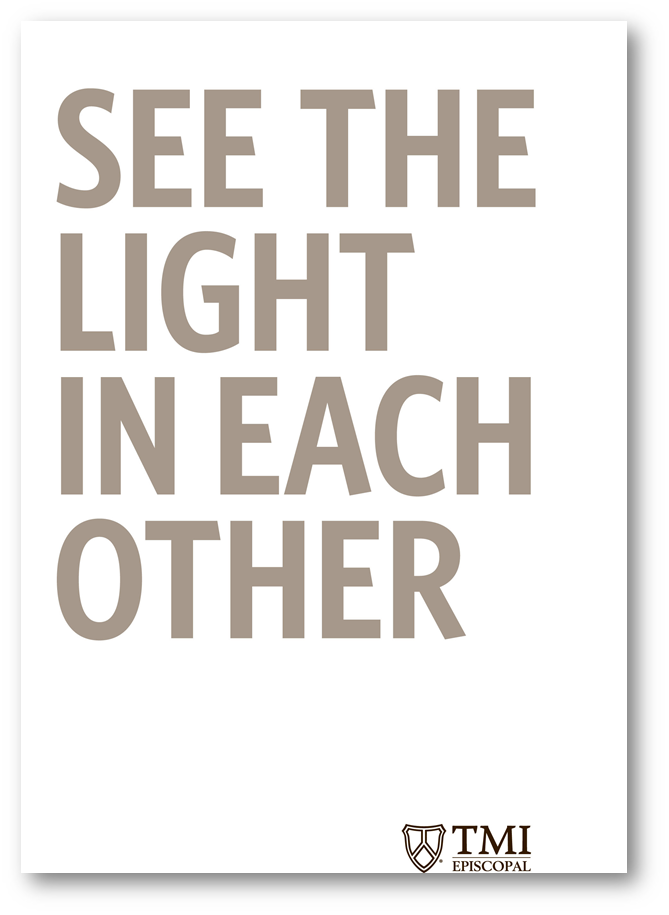 The digital version of TMI Annual Report (mailed in December 2020) is available here!
Besides our Donor Honor Roll, there are reports on the new Walker Innovation Center, student achievements, faculty milestones and most important, our heartfelt gratitude for the generosity of the TMI community that makes it possible for our school to remain on the leading edge of innovation and excellence.
---
TMI Gear on Sale!
This month, enjoy 20 percent off on your TMISideline Store purchase of $85 or more! This promotion is good for the entire month of January, and many items of name-brand apparel are customizable for alumni! Start your online shopping here...and send us your photos wearing your Panther purchases!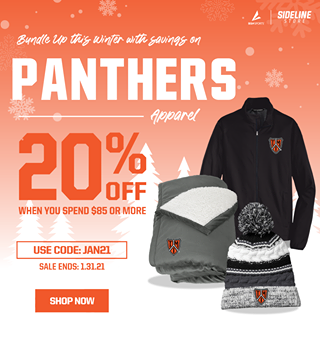 ---
TMI Connections ー New Feature!

Want to make sure your classmates see what you post on TMI Connections?
Now you can tag them…and they'll receive an email with your message! Come see what's new on the social platform just for TMI alumni…or register if you're new to the site! Create a group for your class year, team, activity or any other group of TMI friends…now you can tag your groups, too, when you have something to say or photos to share!Click here to explore this new alumni communications resource; if you have questions, please contact the Office of Alumni Relations, p.allen@tmi-sa.org or (210) 564-6155.
---
Alumni Archives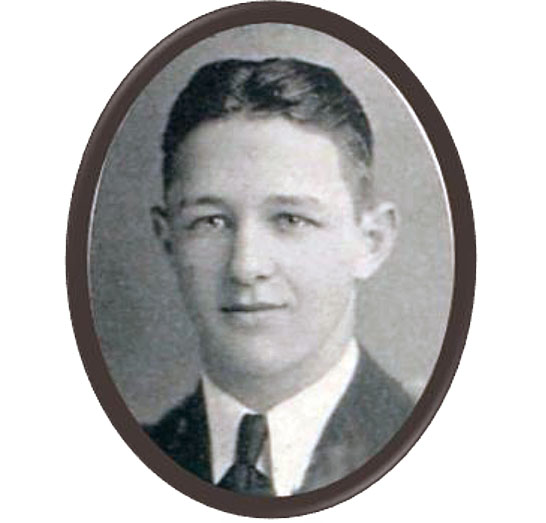 Paul Leroy Dublin '29, TMI yearbook
The TMI Archives now has a complete set of graduation documents for Paul LeRoy Dublin '29, thanks to his daughter D'Ann Dublin Riemer, who made a gift of them to the TMI Archives.
From his diploma, awarded May 24, 1929, we learn that the school's motto at that time was "Ministrare," Latin for "to serve." An ornate certificate for his promotion to corporal in 1928 establishes that the school colors of black and orange were in use, and a graduation invitation shows that the ceremony was held in Turner Hall (now the Bonham Exchange, a popular downtown bar), bears what we now know as the "classic crest" and provides a detailed line drawing of the "Old Main" building at the Alamo Heights campus (1910-1989).
READ MORE
---
Class Notes
1967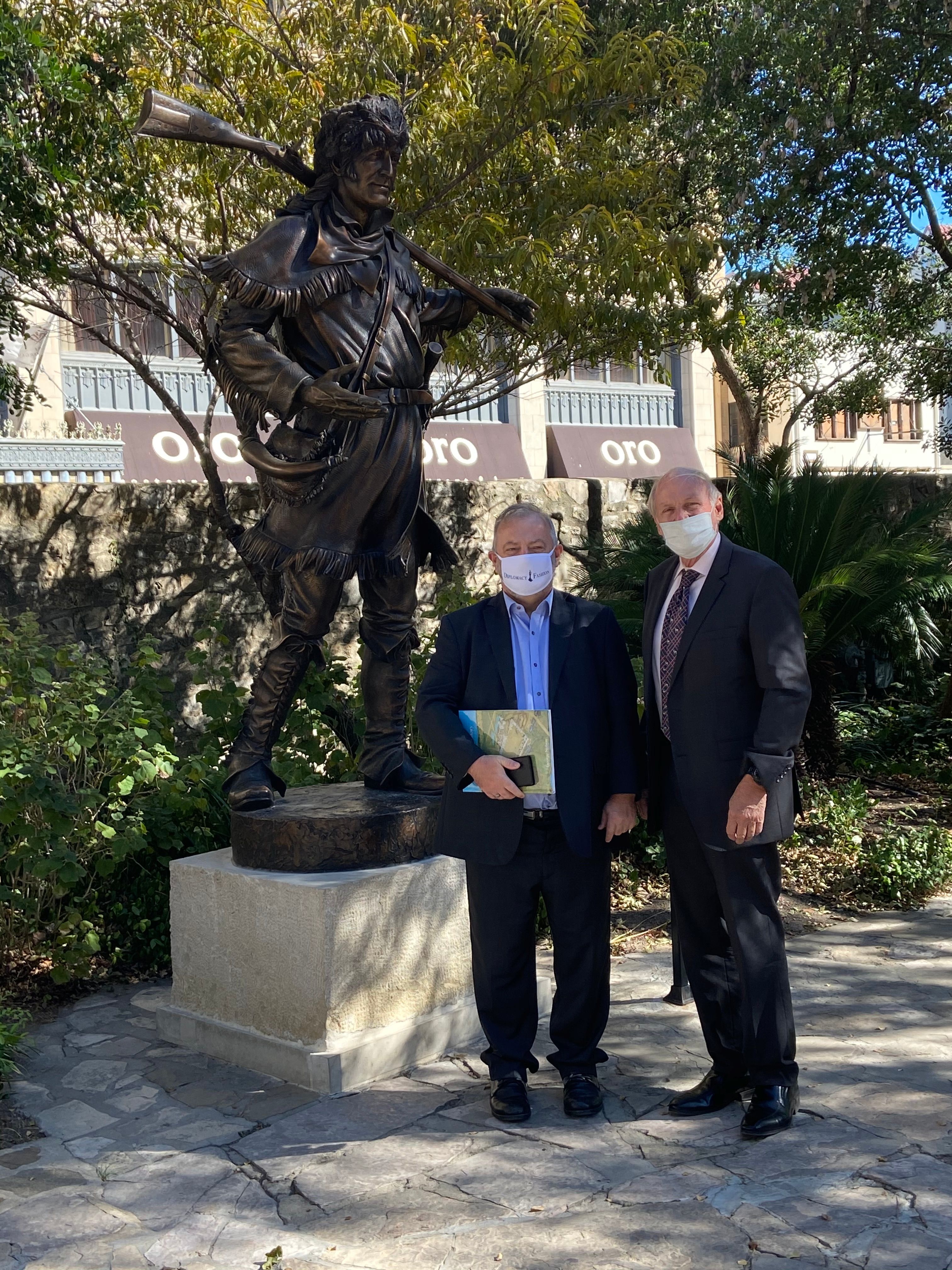 Bob Braubach '67, right, accompanies the Czech Ambassador to the U.S., Hynek Kmonicek, on a Nov. 17, 2020, visit to the Alamo.
Attorney Robert "Bob" Braubach has a long-standing relationship with the Czech Republic and helped set up the first visit of Czech Ambassador Hynek Kmonicek to San Antonio in November 2020 to promote trade and investment opportunities.            
READ MORE
---
In Memoriam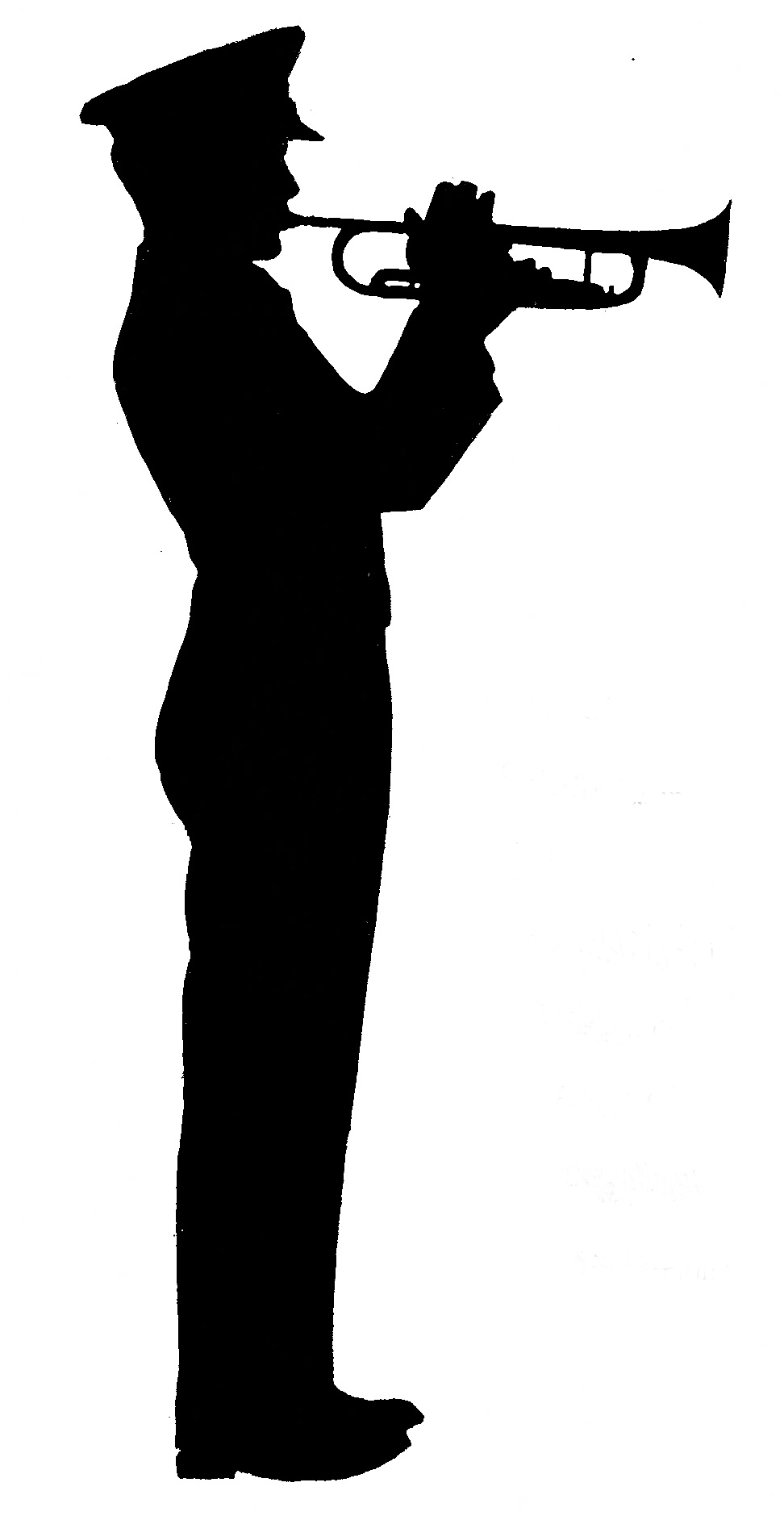 TMI remembers those members of our alumni community who have recently passed away. If you know of an alumnus/a who has passed, please email advancement@tmi-sa.org with the name, class year and a link to the obituary or call us at (210) 564-6155.
Robert H. Matthews '57
Sam Dibrell '59
George Ricks '65
Charles Jerome "Jerry" Kerr '66
---
Keep in Touch!
To stay current with all things TMI, follow TMI Alumni Facebook, join TMI Alumni Connections and share your news by using this form. Or reach out to Alumni Relations at p.allen@tmi-sa.org or (210) 564-6155.